Sole Fitness has been in the business of providing treadmills, elliptical and bikes people in North America for several decades.
It is one of the premier names in the fitness industry and according to their website; they have been one fastest growing fitness company in Canada and the US for the last five years. They are now expanding their reach around the globe by adding dealers in countries around the world.
Sole treadmills are sold to hotels nationwide for their fitness rooms. Hotels are choosing Sole treadmills because of their quality and durability. Hotel exercise rooms need to have equipment that can stand up to rigorous abuse in these treadmills do not disappoint. Sole treadmills are a great addition to any gym whether it is a hotel fitness room, a local gym, or your home gym.
The company says that they are always striving to make their equipment more efficient and better. They are always trying to achieve a higher standard of quality. At the same time, they want to be able to provide the highest quality products at a reasonable price. Sole also stands behind their products with warranties and service that are some of the best in the industry.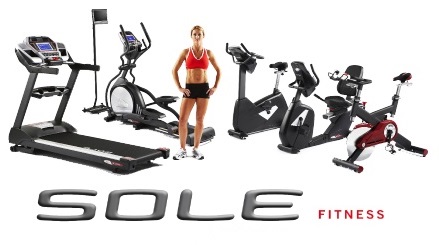 The Products Sole Fitness Offer
Sole Treadmills
The treadmills in the Sole product line have a number of different features that make their machines easier, safer, and more pleasurable to use.
Their treadmills feature a double horseshoe folding frame that was originally designed for the treadmills being sold to hotels. Hotels needed treadmills that were as mobile as possible while also giving their guests a magnificent workout. The frame features and easy to move design but is also very durable with all steel welded construction. The company claims that their frames are actually more stable than most non-folding frames.
Sole treadmills also feature easy assist folding. All you have to do is flip a switch and take a step back while you watch the deck slowly unfold itself; no assistance necessary. The deck will also fold back up easily and securely into the upright position. The decks of Sole treadmills also feature cushion flex which reduces impact by up to 40% when compared to running on asphalt. They are also very quiet.
All of the treadmills offered by Sole fitness have convenient controls that are easy to use with built-in workout programs. Their treadmills also feature a prominent sound system that will allow you to plug in any MP3 player and listen to your favorite music while working out.
When Sole posted about their new line of treadmills on their Facebook page, people were very excited about the new treadmill technology. One of Sole's more famous treadmill models is their Sole F85, which is so popular that Sole was forced to limit the number of customers who could own one of their treadmills (pre delivery). For more serious sports enthusiasts the Sole S77 is a favorite.
Sole Ellipticals
Sole fitness also offers elliptical machines that will give you a challenging workout while being low-impact and easy on the joints. Each of the elliptical machines that Sole fitness makes has an incline function that will let you increase the intensity of your workout and target specific muscle groups.
Like the treadmills, their elliptical machines have convenient controls and a great sound system. Their elliptical machines also feature a smooth whisper drive system that allows for natural motion while being whisper quiet. The elliptical machines use a heavy flywheel and a high gear ratio to give you plenty of resistance and a challenging workout.
These machines also have adjustable foot pedals designed by their engineers with the help of a leading physical therapist. The adjustable foot pedals help reduce ankle and knee stress because you can adjust the pedals to suit the way you walk.
Sole fitness will also show you how to perform the exercises and burn calories that you will not know you are burning. With the help of their blog, you will be sure to build up your strength and stay fit and strong.
Sole Exercise Bikes
Sole fitness also has a line of exercise bikes that are designed to be beautiful, comfortable, affordable and of course give you a fabulous workout. The bikes are ergonomically designed with adjustable seating, and each bike has a large, easy to view console display.
Like all of their other machines, Sole Fitness exercise bikes have a first-class sound system to help make your workout more enjoyable.
Exercise bikes are great for some people and just not work for others. It is important that you select the right one for you and do the appropriate training beforehand so you have time to familiarize yourself with the bike.
Sole Rowers
A rowing machine is a good example of excellent fitness equipment. You want to get as many reps out of the row as possible because you don't want to fatigue your muscle groups (the body uses energy to contract) as quickly as possible.
Sole Fitness model is SR500.
Sole Climbers
The moves on the vertical climber don't get repetitive or mundane because of how fast and difficult they can get.
"It has multiple benefits because your heart is working, your arms and your legs," explains Travers. "It's one of the best workouts to target your core, too."
Sole CC81 Cardio Climber is their newest model.