Hi, Jamie here, this is were you can find my (slightly short) about me page!
First of all, let me just say that I'm honored to see you here at my site. This site is my private blog/website where I write about different aspects of treadmills. I specialize in equipment from Sole Fitness, and I sometimes write in-depth reviews and reports about their new products (for example their new Sole F85 treadmill). That doesn't mean I favor them over other treadmills from other brands, I just write more about them. That's it.
For the record I will probably write more about other brands during 2014 and 2015. And, also, I will probably start writing a bit about elliptical training and equipment to.
I would love to hear from you!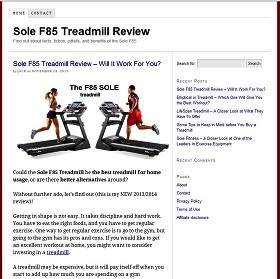 Shoot me a email, and tell me what you think about my site. Let me know if there is anything special you are missing or that you would like me to write about.
You can find all my contact information on my contact page in the main navigation at the top or in the sidebar to the right.
Thanks and I really hope that you will enjoy my blog!
-Jamie Miller